Heartland Vizslas
Welcome
Heartland Vizslas is dedicated to breeding a versatile Vizsla, a loyal hunting companion, and a loving family member.

Introducing Starr & Guy's Puppies! 6 girls & 2 boys were born on 1/26/2013.
Please call or email me for more information.


Information about the parents can be found at the tab above: Starr & Guy.
Welcome to our site, Heartland Vizslas. My wife, Karen & I have been involved with the Vizsla breed ever since I saw my first Vizsla in 1977. I immediately recognized this versatile and affectionate breed to be the perfect pet for our three children and also my loyal hunting companion. We purchased our first Vizsla later that year and decendents of our "Gentleman's Hunting Dog", have been members of our family for the past 29 years. We have occasional litters (when I have to have a new puppy). Karen does the whelping, while I train, hunt, handle the competitive events, and help our six grandchildren increase their love of our breed as "assistant trainers".
The breeding goal for Heartland Vizsla's is to give you a unique hunting dog. A Vizsla that can be a house companion, a family pet, and a natural hunter with the field instincts that we all desire. We guarantee these hunting instincts for each of our puppies, or your money back. An example of the quality of puppies we attempt to breed at Heartland Vizslas is Raany. Raany, was owned and trained by Jim Busch, and his name will be found often on Midwest Vizsla pedigrees. We breed only OFA approved Vizslas with the temperament and conformation to achieve our goal. If the above represents the characterisics you are seeking, contact me for future litters, references, or just to discuss our Vizslas.

"Becki @ 14 weeks on her first trip to the field. She is amazing at such a young age. Of the 4 Vizslas we have had she is the smartest and most trainable with little effort," says her owner, Tracey.

Photo on right: "Rusty pointed 5 or more birds and we got 2 of them. Not bad for an old guy and his 10 month old pup," says owner, Ed.
Photo on left: Bob showing off a puppy from a previous litter.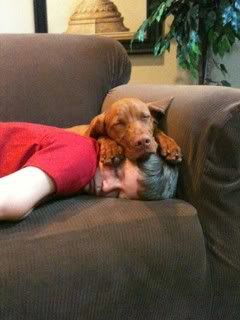 Toby and Gavin are all tuckered out from a day of playing.
Owner: Bob Hodges
418 Ridge Dr.
Geneseo, IL 61254
309-441-5266
309-721-6621
together@theinter.com
Check us out on Facebook! Heartland Vizslas
We will be updating the pictures regularly.


Thank you for visiting our site. You are visitor number: